Actually, you can experience all cultures or religion in many attractive places of different countries. And Saigon is not an exception. This place is famous for the period of heroic wars and many architectural landmarks. Also, this city is the land of many magnificent and heroic pagodas or temples that perfectly combine together and create the majestic heritage and beauty of this place.
The temples and pagodas in Ho Chi Minh city are not only the most attractive sights, but it is also the religious places for both Taoists and Buddhists to express their deep beliefs. Moreover, they are the places of special festivals and ceremonies creating some valuable chances to widen your knowledge.
Below are the list of famous temples and pagodas you may want to visit:
The Oldest Place of Ho Chi Minh City, Giac Lam Pagoda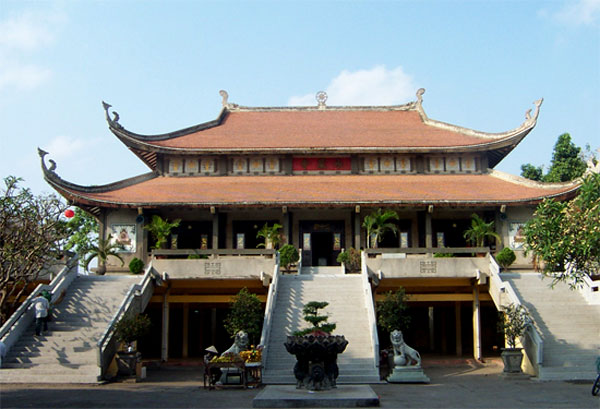 Being the oldest worship located in Saigon, many specialists has recognized this pagoda as both cultural relic and national historical. Its most special features are the collection of towers constructed in the early period in the nineteenth century. This place contains around 38 towers varied in sizes, influenced by the perfect combination of light resemblances popular in both Eastern and Western countries and architectural style coming from the ethnic areas.
Nowadays, Giac Lam Pagoda still remains numerous precious sculptural documents, items, and historical culture. Many local and international travelers usually visit this place in order to enjoy the unique architecture of an Asian pagoda, go sightseeing and light some joss sticks for blessing the best things.
The Highest Vietnamese Pagoda Made of Stone, Vinh Nghiem Pagoda
This place contains a tower made of stone, which is the tallest one among the other pagodas in Vietnam. Constructed in the final year of 2003, many skillful architects made this become the first stone 14 meters in height in the southern of this country.
Being constructed recently make this place be a perfect combination of both the modern style of Japanese architecture and classical structure of Vietnam culture and become a spectacular, majestic and stable monument. There is a numerous tourist interested in coming to this pagoda and bless for health and luck every year.
A Majestic Chinese Temple In Ho Chi Minh City, Thien Hau Temple
Like what written in some historical documents, many Chinese immigrants first living in Guangzhou, China constructed this pagoda. Therefore, this is the reason why its most outstanding features mainly follow the Chinese architectural style. This place aims at honoring Thien Hau, or Mazu and Woman in the Sea like some locals usually call.
According to the former Chinese, she is a god for protecting fishermen and sailors. Moreover, you can just see the most lovable and popular thing of this temple from the exterior side of this temple. The fashionable and small porcelain figurines create a delicate decoration for the roof and show the main themes of Chinese legends and regions. Whereas, people usually stick many spiral incenses into the ceiling of the yard in the way similar to the design of any typical old temple in China.
A Famous Indian Worship Temple In Ho Chi Minh City, Mariamman Hindu Temple
Like other typical Hindu temples in Saigon, this temple is a place honoring Mariamman, known as the god of the excellent crop, happy life, and fertile land. Constructed during the final years of the 19th century, it has still contained no damages because of the good protection from the local authority. Inside the center of this place, you can easily find a Goddess Mariamman statue together with two lingams and some guardian deities.
Some people usually visit here to dedicate flowers and joss sticks. Also, it contains 2 majestic towers directly located on the roof decorated with statues of Hindu goddesses, gods or lions. You have to take off your shoes before putting the feet into the interior place inside for expressing your real respect.
About the author: Oliver Ken from Viet Fun Travel